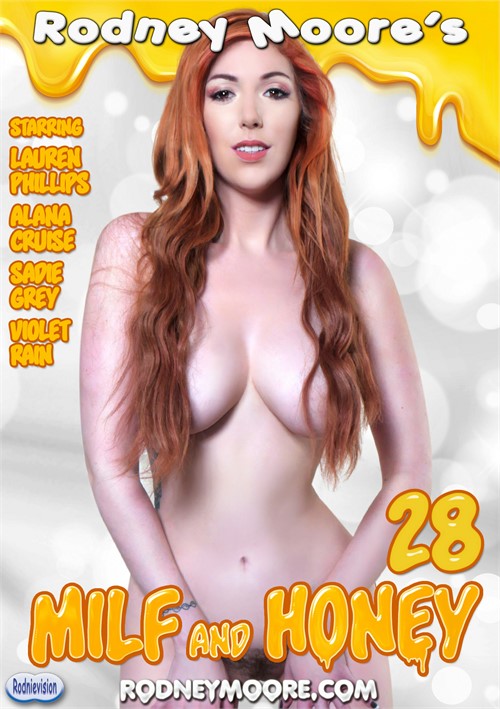 Stars in New WoodRocket Parody 'Jurassic Wood,' Cover MILF and Honey 28'
VENICE, CA – While Lauren Phillips has been in Prague shooting with Legal Porno, back Stateside there has been a lot of action on the Lauren front.
She is of course a sponsor of this week's 2018 XRCO Awards, a rare move (second time ever) for a performer and she is nominated for Unsung Starlet at the show.
The new issue of Cam Life magazine just hit the streets and it includes an interview with Lauren on the topic of cyberbullying. She's had experiences on the worst side of cyberbullying herself and has been active over the past year trying to combat it. Among the questions in this extensive interview was, Why do you think it is so common that people are attacked on the internet?
"I think the internet has created this mask for people and it dehumanizes us," Lauren said. "When you are typing and not actually saying it out, you forget the reactions people have and how words can really hurt people. I think people are just trying to be heard and the internet is the best way for it."
WoodRocket just released the much-anticipated parody of Jurassic World: Fallen Kingdom called Jurassic Wood: Swollen Dingdong. It's available on both the WoodRocket site and on PornHub. It stars Lauren, Robby Echo, Codi Vore, Tegan Trex and Kyra Rose. The movie features hybrid porn stars/dinosaurs. Lauren does not play a hybrid, but a sexy version of her redheaded self who gets to show off both her acting and fucking talents.
"I loved working with WoodRocket and I think the parody is both hilarious and sexy," Lauren said. "They are absolutely amazing at writing really funny stuff and it doesn't come at the expense of hot sex, so you know I'm always up for that kind of fun!"
Also, Rodney Moore just released MILF and Honey 28 and it features a solo Lauren cover. Lauren shows off her brilliant oral skills and screwing capacity with the legend Moore's giant cock and famously-massive loads.
At Exxxotica Denver Lauren debuted her new 3V Starlet Stroker from her sponsor 1amdollusa. It features Lauren's voice in addition to a realistic vaginal texture and multiple vibration settings. Get more information at https://iamdollusa.com.
Lauren is one of the official sponsors of the 2018 XRCO Awards. Her logo will be on the red-carpet press wall, and she'll have a banner on XRCO.com for a full year, a half-page ad in the show's program, a mention in all press releases as a sponsor, a table at the awards show and electronic signage at the awards show. She is nominated for Unsung Starlet at the show. The 2018 XRCO Awards will be held June 28 at the Argyle in Los Angeles. The club is located at 1600 Argyle Ave, Los Angeles, CA 90028. Red carpet starts at 7 pm and the awards at 9 pm. For more information go to http://xrco.com.
Lauren is doing twice-weekly Twitch streams, on Thursdays and Sundays at 6 pm PST. These slots allow fans to interact with her in a non-porn environment. Join her on Twitch.tv at https://www.twitch.tv/laurenphillips_/.
MORE LAUREN:
Cam Life magazine: http://camlifemag.com
Jurassic Wood: Swollen Dingdong: http://woodrocket.com/videos/jurassic-wood-swollen-dingdong
MILF and Honey 28: https://www.adultdvdempire.com/2498030/milf-and-honey-28-porn-movies.html?partner_ID=46386249
POV Mania 14: https://www.adultdvdempire.com/1989167/pov-mania-vol-14-porn-movies.html?partner_ID=46386249
Filthy Cheating Wives: https://www.adultdvdempire.com/2497211/filthy-cheating-wives-porn-movies.html?partner_ID=46386249
Ultimate Gingers go to https://www.adultdvdempire.com/1990708/ultimate-gingers-porn-movies.html?partner_ID=46386249.
SOCIAL: Twitter and IG: @LaurenFillsUp; Tumblr: http://LaurenFillsUp.Tumblr.com; Sextpanther: https://www.sextpanther.com/lauren-phillips; IWantPhone.com: https://iwantclips.com/phone/store/130258
OFFICIAL WEBSITE: http://LaurenPhillips.com
BLOG: http://LaurenFillsUp.com
BOOKING: Nexxxt Level Talent: https://nexxxtleveltalentagency.com/model/lauren-phillips/
PRESS/MEDIA CONTACT: Rising Star PR, @RisingStarPR
For everything Lauren Phillips go to http://risingstarpr.com/clients/lauren-phillips/.