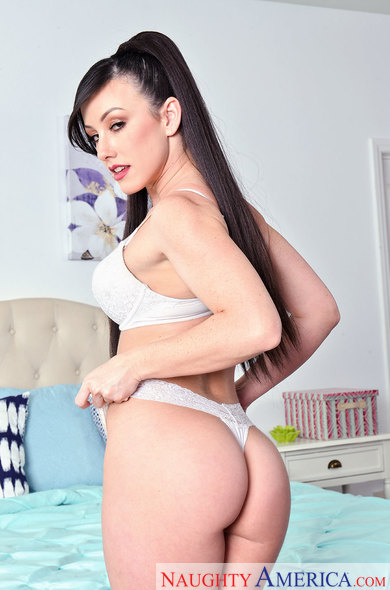 FOR IMMEDIATE RELEASE
October 9, 2017
Jennifer White Doesn't Care About Your Spouse
She Just Wants to Get Fucked in Naughty America's New 'I Have a Wife" Scene
VENICE, CA – If you have a wife, that's your problem – Jennifer White needs to get laid and whether or not you have a ring or made a vow is of no concern to her sweet pussy. Once the moistness starts to kick in, the girl has to find a way to get off and if you're lucky enough to be in her vicinity and catch her pretty eye, just go with it.
Wife or not. Or husband or not!
When Jennifer found out her husband's college buddy was coming for a visit, she immediately got a twinge in her twat. She remembers fondly the one-off threesome they had years ago and she'd like to revisit that magic moment, but this time as what civilians might call a boy/girl. Just Jen and Charles Dera – surely a sexy woman like Jen can make that happen. Maybe he's been thinking the same thing!
When Charles gets in, she welcomes him into the family home and shows him up to his room. The bed wasn't quite in order, so she gets on to straighten the sheets, at the same time her short dress rides high and Charles can see that she is not wearing any underwear. The only fabric between his cock and her sweet spot is on him.
Can a man really be expected to hold back when a situation like this presents itself? Of course not. That's why Mike Pence wears his version of a chastity belt if ever he is going to be alone in a room with a woman.
Charles manages to get out of this situation without getting his dick wet, but his willpower collapses when she returns wearing nothing but a bra and panties. Sure, he's married, but she did fuck him first, so therefore she has dibs if ever she wants to get filled up my Charles' cock. That's the way it works, right?
It is in Jen's world. Oh, what a wonderful world….
Watch Jennifer and Charles in Naughty America's "I Have a Wife" at https://tour.naughtyamerica.com/scene/jennifer-white-23287.
Jennifer is raffling off lunch with her during Exxxotica NJ for each of the three days she will be there. Tickets are only $5 or 10 for $40. Get your ticket(s) for the opportunity to win lunch with Jennifer White at https://www.eventbrite.com/e/jennifer-white-lunch-with-jen-at-exxxotica-nj-nov-3-5-tickets-36653953963. You can't win if you don't play!
Check out her virtual reality scenes at https://vrporn.com/pornstars/jennifer-white/.
SOCIAL: Twitter and Snapchat: @xJenniferWhiteX'; Chatstar: Jennifer_White
OFFICIAL WEBSITE: http://jenniferwhitexoxo.com
BOOKING: Skype dates: jenniferwhiterequests@gmail.com; scenes/photo shoots: Jenniferwhitebookings@gmail.com
PRESS/MEDIA CONTACT: Rising Star PR, info@risingstarpr.com, @RisingStarPR
For everything Jennifer go to http://risingstarpr.com/clients/jennifer-white/.