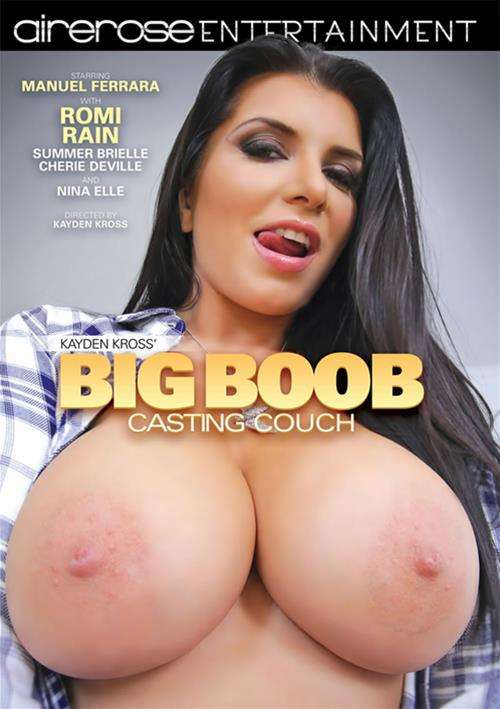 Watch Her 1st Ever Live Show On RomiRain.com For Free & More!
VENICE, CA – Romi Rain has a brand new cover on the shelves right now. A delicious solo shot of Romi graces the front of Kayden Kross' Big Boob Casting Couch. Romi's amazing new breasts get the attention they deserve both on the box cover and in the movie. Romi takes Manuel Ferrara's big cock between her massive titties before he nails her tight, little pussy and unloads on her gorgeous face in this amazing scene!
"Kayden and Manuel are two of my favorite people and shooting this movie was a terrific experience," Romi said. "Manuel is great to work with and we have great chemistry and Kayden has an amazing eye."
But that's not all that's happening in the popular adult superstar's world. Earlier this month she re-launched RomiRain.com, adding more content, as well as a fresh new blog area, and promising to do monthly shows. This week Romi fans are in for a special treat! Romi will be doing her first ever live show on her website, which will be free for members on Saturday the 28th from 6 pm PST to 7 pm PST only!
Romi also continues to dazzle fans with her incredible live shows. Last weekend Romi featured at the Cadillac Lounge in Rhode Island. Her 2016 U.S. Feature Tour continues next month with a June 7-11 commitment at Blush Pittsburgh.
Last but not least, Romi Rain has 2016 XRCO nominations for Female Performer of the Year and Superslut. The 2016 XRCO Awards will be held at OHM in Hollywood on June 22. For more information go to http://www.xrco.com.
Find more Romi at her Clips 4 Sale at http://clips4sale.com/studio/96013/The-Official-CFS-of-Romi-Rain#startingpoint. Connect with her on Dream Lover at http://www.dreamlover.com/RomiRain. Check out her YouTube channel at www.YouTube.com/RomiRain.
Follow Romi on Twitter (@Romi_Rain), Instagram (romirain), Tumblr (http://romirain.tumblr.com). She can be booked through www.OCModeling.com. For everything Romi go to http://risingstarpr.com/clients/romi-rain/.