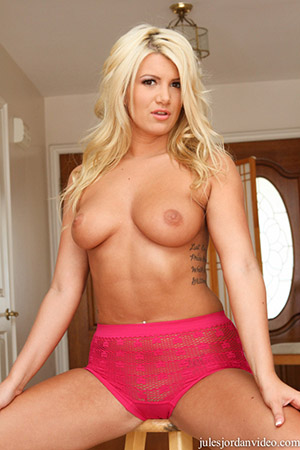 NY Show Debuts New Segment Based on Her Revealing Appearance!

VENICE, CA – Layla Price has two fascinating new interviews that have just become available and she's very excited that fans around the world have the the opportunity to listen in.
She did and hour with Adventures of The Mayor while she was in Florida for her big five-night engagement earlier this month. They talk about the funniest movie title she's ever appeared in and a lot of saucy questions. They also debut a new segment, Food for Naughty Thoughts, in which Layla confesses her go-to food after fasting for anal scenes.
Layla also has an interview with Solo Vibes Music, a music website out of New York. Founder Wally Thrasher got to know Layla a lot better in an interview that will drive fans wild. They talk about how she got into the industry, what it was like working with the one and only Mandingo (which is how Thrasher discovered Layla), as well as a lot of music and Layla's plans for the future.
Layla has several new movies in stores right now, including Orgy Masters 6 (Jules Jordan Video), Squirtamania 41 (Porno Dan) and Diesel Dongs 35 (Bang Bros). She also stars in Mr. Anal 13 (Bang Bros), which releases this week.
Check out the Adventures of The Mayor episode at http://www.planetplatypus.com/adventures-of-the-mayor-xxx-adult-film-super-star-layla-price-dances-at-ts-ultra-lounge-dj-jimmy-bonura-in-studio-producer-spotlight-on-deorro-a-plea-for-djs-to-keep-humility-at-the-clu/.
The Solo Vibes Music interview can be found at www.planetplatypus.com/tag/layla-price/.
Fans interested in signed merchandise or outfits can contact Layla at laelapryce@yahoo.com.
Check out her FreeOnes page (and give her 5 stars!) at www.freeones.com/html/l_links/Laela_Pryce/.
Layla is available for feature dancing and hosting gigs through Centerfolds Strips (www.modelmanagement.com/agency/centerfold-strips-exotic-dancers/). For everything Layla go to http://risingstarpr.com/news/?page_id=4959. Be the first to know everything about Layla by following her on Twitter (@laylapricexoxo).